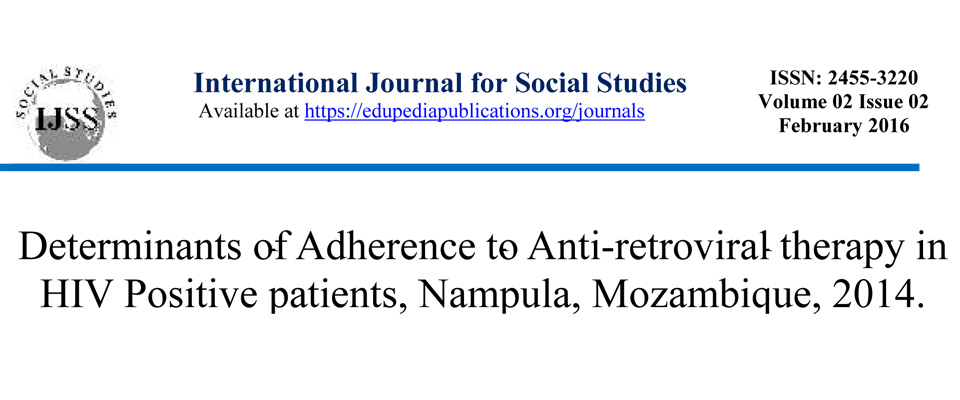 Autores: Paulo H. N. M. Pires1, Marega Abdoulaye2 ;José Miguel Craegh3

1 Project leader, conception and design, acquisition of data, analysis and interpretation of data, drafting the article, final approval of the version to be published; Family and Community Medicine Specialist, Lecturer, Health Sciences Faculty, Lúrio University, Nampula, Mozambique.
1 Samples preparation, acquisition of data, data analysis, interpretation of data; MD, Lecturer, Health Sciences Faculty, Lúrio University, Nampula, Mozambique.
1 Acquisition of data, data analysis, revising the article; Pedagogic Sciences PhD, Lecturer, Health Sciences Faculty, Lúrio University, Nampula, Mozambique.
Abstract
Background and objective: the HIV epidemic in Mozambique is a public health problem. The Mozambican National Health Service expanded treatment with Antiretroviral therapy (ART) to all districts of the country in 2009. Unfortunately the expansion of ART was followed by a high rate of ART non-compliance thought to be due to inadequate food intake and difficulty accessing health centres due to transport and resource availability issues. Causes of non-compliance with treatment have not been well researched. Our research evaluates ART adherence rates in Nampula Province and treatment non-compliance reasons.
Methods: a quantitative cohort study was undertaken in 5 health centres in areas of Nampula Province. Surveys were done with patients on treatment and patients who are non-compliant with therapy. Patient information documents (clinical files, pharmacy and statistical records) were also consulted.
Results: ART non adherence rates attained 40%. We surveyed 208 patients who were ART adherent and 86 patients who were non-compliant with therapy, 70% were female, between 18 and 62 years of age. The main reason for treatment non-compliance (36%) was the stigma attached to having HIV; 58% of all people do not have enough food, 37% suffer from depressive ideation and 18% abuse substances, mainly alcohol. ART adherence (>95% of pills are taken for the last three months) is 69%, but 36% of people who are adherent have a CD4 count under 350 and 63% are not following the Health Ministry recommended treatment protocol.
Discussion: families and local communities percept stigma of having HIV is considered the main reason for ART non-adherence, but food insecurity and depression are also important determinants. Although poor health services occupy the last position in ART cessation causes, many patients are not following the recommended treatment protocol due to Health Centre deficits. ART adherence rate of 69% explains the high incidence of opportunistic infections (27%).
Conclusion: ART non-adherence in Nampula is a serious and complex problem due to individual, social and health system factors. It will be necessary to develop an interdisciplinary intervention with patients and their families, health professionals and traditional healers, to reverse this situation and improve the long term outcome of HIV patients.


Baixar Artigo completo